Currently on Back/Pre Order until 10/15/20
Blichmann Engineering and March Manufacturing have teamed up to bring you another state-of-the-art brewing innovation! Introducing the RipTide™ Brewing Pump!

Specifically designed for homebrewing, the RipTide™ pump features 360 degree head rotation that will allow you to orient this pump in any way that fits your brewing system. A tri-clamp fitting allows for super easy cleaning and disassembles in seconds. A partially enclosed impeller design with integral air vent valve allows you to prime your pump in seconds. The pump even includes a large, stable base that will prevent it from being tipped over and includes a convenient on/off switch. One of the coolest features is an integrated flow control valve that allows for maximum control over your flow rate!
Product Features:
High performance: 7 GPM & up to 21 feet of pressure head
Totally enclosed motor is splash-proof and extremely quiet
Tri-clamp fitting on pump head
Pump head rotates 360 degrees!
Partially enclosed impeller design and integral air vent valve allows for priming in second; no more air locked pumps!
Large base w/rubber feet included! $25 retail value!
Includes convenient on/off switch on base
Flow valve integrated in-line for maximum control
Includes 10 ft power cord (120v)
Assembled in the USA!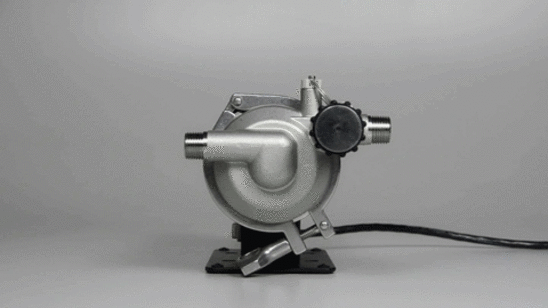 1 Review
This is a fantastic addition to my brewing day. Compared to my previous less-expensive pumps, this thing is in a different league of quality and craftsmanship. Cleaning up was incredibly simple. The Tri clover clamp made it easy to disassemble, and just as importantly, easy to reassemble. Pump output was fantastic and the built in linear flow valve was easy to use. Operation was almost completely silent during use. The switch located on the pump was very convenient to use and minimized my trips around my brewing table to either cycle a remote switch or unplug a pump. Bottom line is that this seems like an almost bulletproof product! It may seem a little pricey at first glance, but when you factor in the quality, built in priming valve, the flow control valve, built in switch and ease/thoroughness of disassembly and cleaning, this has to be one of the best valued pumps on the market.